Warm Black Truffle Vinaigrette
Recipe developed at The Culinary Institute of America by Chef Instructor Brenda La Noue. See Chef Almir Da Fonseca prepare the recipe in the videa below.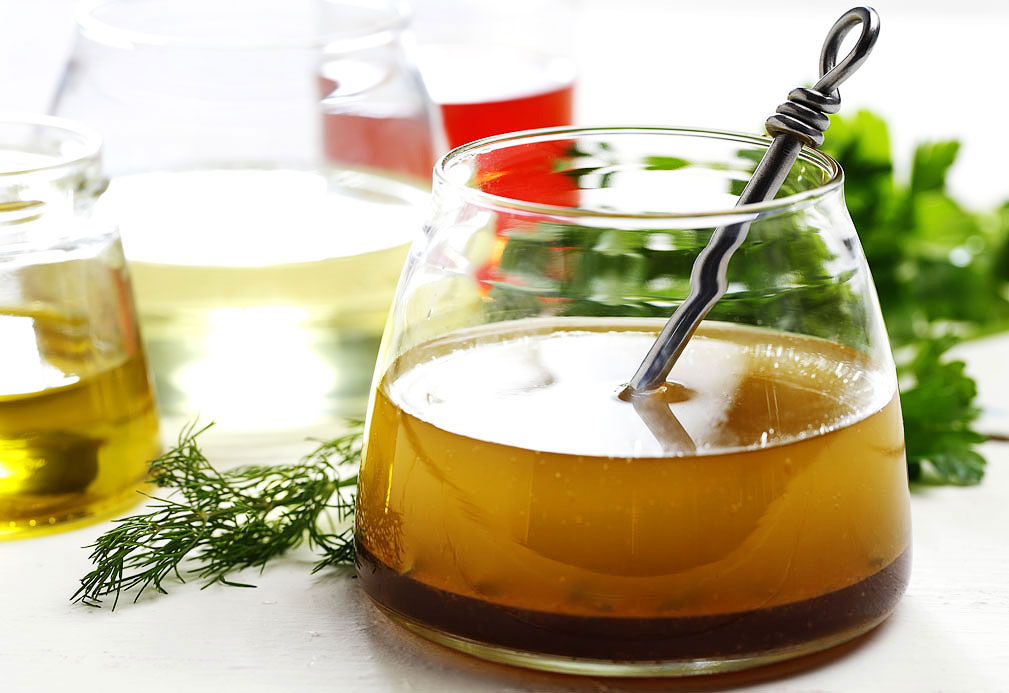 Ingredients
1/2 cup + 2 Tbsp canola oil 125 mL + 30 mL
1/4 cup white onion, chopped 60 mL
1/4 cup carrot, chopped 60 mL
1/4 cup celery, chopped 60 mL
1/4 cup madeira wine 60 mL
1/4 cup chicken stock 60 mL
1/4 cup sherry wine vinegar 60 mL
1/4 cup truffle oil 60 mL
1/4 tsp coarse salt 1 mL
1/4 tsp black pepper, 1 mL
3 Tbsp finely chopped fresh herbes (optional) 45 mL
Instructions
1. In the same saucepan, heat 2 Tbsp (30 mL) of canola oil over medium heat. Add the onions, carrot and celery. Sauté for about 4 minutes or until the vegetables are tender.
3. Add Madeira and stir to deglaze the pan.
4. Continue to cook for about 3 minutes or until the pan is almost dry.
5. Add the chicken stock and cook for about 4 minutes or until liquid is reduced by half.
6. Immediately strain through a fine sieve into a medium-size heat-proof bowl. Discard the solids and allow the liquid to cool.
7. When cool, whisk in the vinegar, remaining 1/2 cup (125 mL) canola oil, and the truffle oil.
8. Season to taste with salt and pepper. Stir in the herbs just before serving.
Yield
2 cup (500 mL).
serving size
nutritional analysis
Calories
30
Total Fat
3.5 g
Saturated Fat
0 g
Cholesterol
0 mg
Carbohydrates
0 g
Fiber
0 g
Sugars
0 g
Protein
0 g
Sodium
10 mg
Potassium
6 mg