Black Bean Avocado Salsa with Home Baked Tortilla Chips
A heart-healthy snack for your next celebration!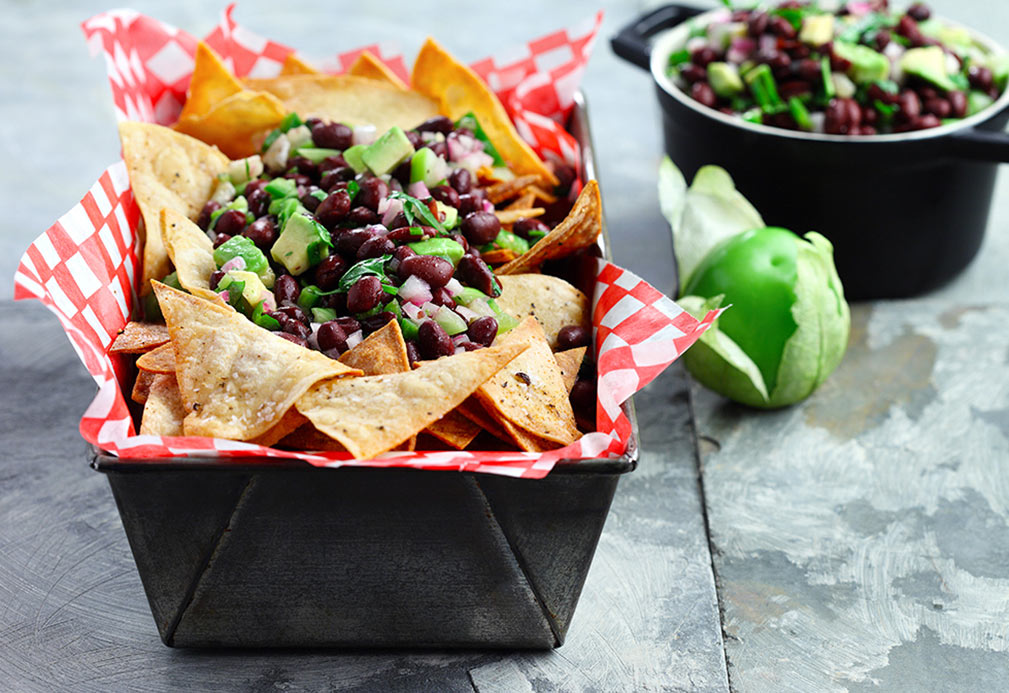 Ingredients
Chips
6 soft (6 inches/15 cm) tortillas
1 Tbsp canola oil 15 mL
1/2 tsp garlic powder 2 mL
1/2 tsp coarsely ground black pepper 2 mL
1/4 tsp salt 1 mL
Salsa
1/2 ripe medium avocado, peeled, seeded and diced
1 medium tomatillo, papery skin removed, rinsed and diced
1 large jalapeno chili pepper, finely chopped (seeded, if desired)
1/3 cup chopped fresh cilantro leaves 75 mL
1/4 cup diced red onion 60 mL
1/2 can (15 oz/426 mL) no-salt-added black beans, rinsed and drained
2 Tbsp canola oil 30 mL
1 1/2 Tbsp fresh lime juice 20 mL
1 1/2 Tbsp cider vinegar 20 mL
1/4 tsp salt 1 mL
Instructions
1. Preheat oven to 350 °F  (180 °C).
2. Stack tortillas and cut into eight equal triangles (48 wedges total). Put triangles in single layer on two baking sheets. Drizzle triangles with 1 Tbsp canola oil and sprinkle with garlic powder and black pepper. Bake for 10 to 11 minutes or until chips are light brown and beginning to crisp. Remove from oven, place baking sheets on cooling racks, sprinkle evenly with 1/4 tsp (1 mL) salt and cool completely (about 10 minutes). As chips cool, they will become crisper. Store in airtight container up to 24 hours for peak flavor and texture.  
3. Meanwhile, combine avocado, tomatillo, jalapeno, cilantro, red onion, black beans, canola oil, lime juice, vinegar and salt in medium bowl. Serve with tortilla chips.
Cook's note: The leftover black beans may be stored in an airtight container in the freezer up to one month for later use.
Yield
6 servings
serving size
1/3 cup (75 mL) salsa, 8 chips
nutritional analysis
Per Serving
Calories
130
Total Fat
10 g
Saturated Fat
1 g
Cholesterol
0 mg
Carbohydrates
9 g
Fiber
2 g
Sugars
1 g
Protein
2 g
Sodium
200 mg
Potassium
120 mg